Pickup « Pêche à la mouche »
Specifications
The mounting system
The mounting system works with a leaf spring and is easily fixed on the instrument with the volume potentiometer near the top. A second spring of different length is supplied and can use the same pick-up on « big hole » guitars. The leaf springs are screwed under the pick-up.  Our microphones come with a removable cable. Your microphone « peche a la mouche » will have a « vintage look » after a few uses
Le système de fixation fonctionne avec un ressort/lame et se croche facilement sur l'instrument potentiomètre de volume vers le haut. Un deuxième ressort de longueur différente est livré avec le micro et permet d'utiliser le même micro pour une guitare grande bouche. Les ressorts/lames se vissent sous le micro. Nos microphones sont livrés avec un câble amovible. Votre microphone « peche a la mouche » prendra une finition « vintage » après quelques utilisations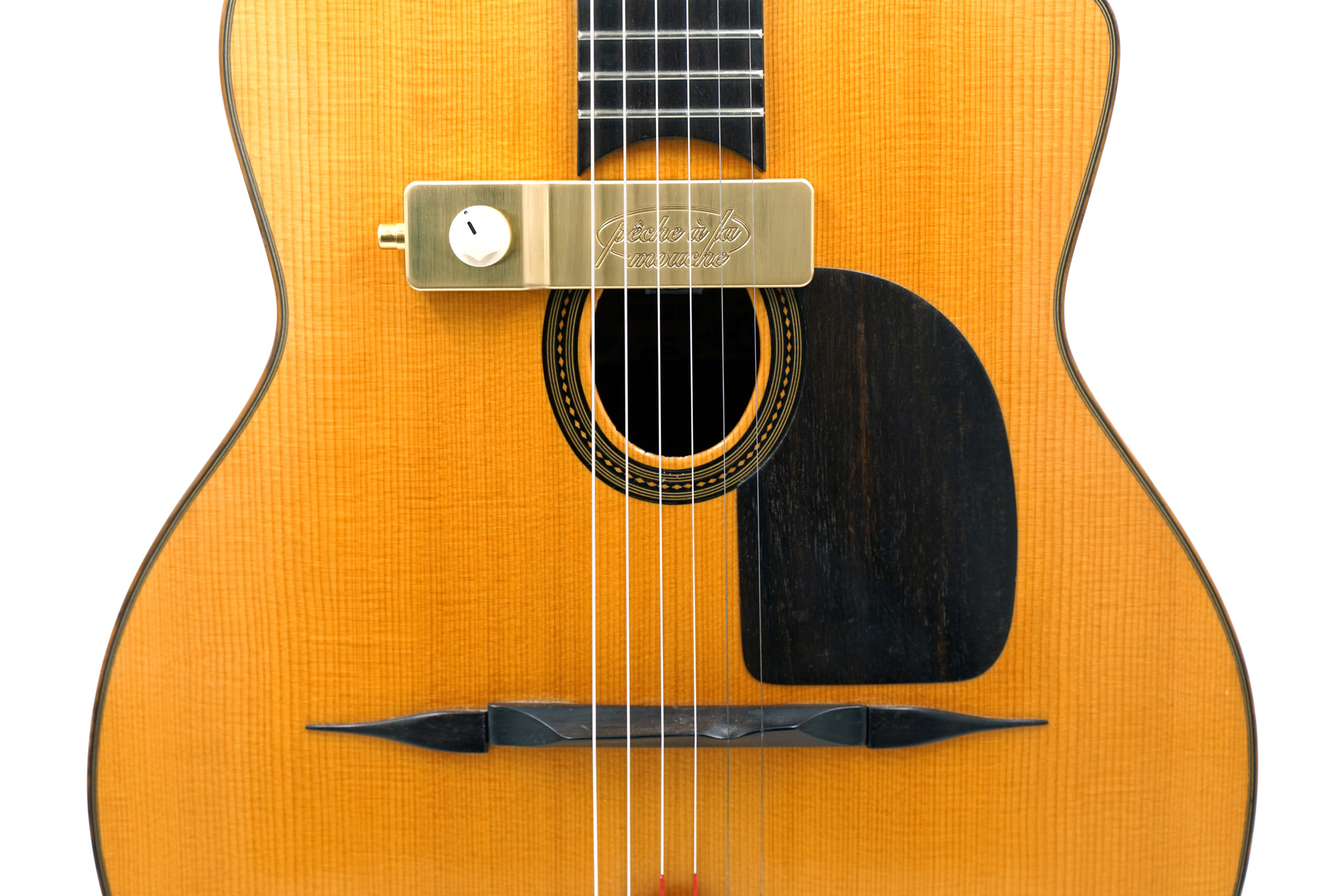 Specifications
Single coil pick-up

ALNICO Magnet

Brass Casing and Steel cover

Integrated volume potentiometer

Dimensions: 130x35x6.5mm

« Amphenol » 6.35 jack with 3,3m cable

Two mounting leaf springs according to the guitar choice

Available in left handed version on request (potentiometer towards botom)

2 year warranty (excluding the cable)

Deux ressorts de fixation à choix selon guitare
Disponible en version gaucher sur demande (potentiomètre vers le bas)
Garantie 2 ans ( câble non inclus )
The height of the fingerboard
The magnetic pick-up « peche a la mouche » will

not fit on all « gypsy » guitars.

The height of the end of the fingerboard must be, at least 1/4″ inch (6,5 mm). For other reasons (location of the brace under the soundboard), the pick-up will not fit some « D Hole » gypsy guitars. If in doubt, please contact us !
Le microphone

ne s'adapte pas sur toutes les guitares « manouches »

. La hauteur de la touche, au niveau de la dernière frette, doit avoir 6,5 mm au minimum (au centre de celle-ci). Pour d'autres raisons (emplacement du barrage-renforts sous la table d'harmonie) il en va de même sur certaines guitares « Grande Bouche ». En cas de doute, merci de nous contacter !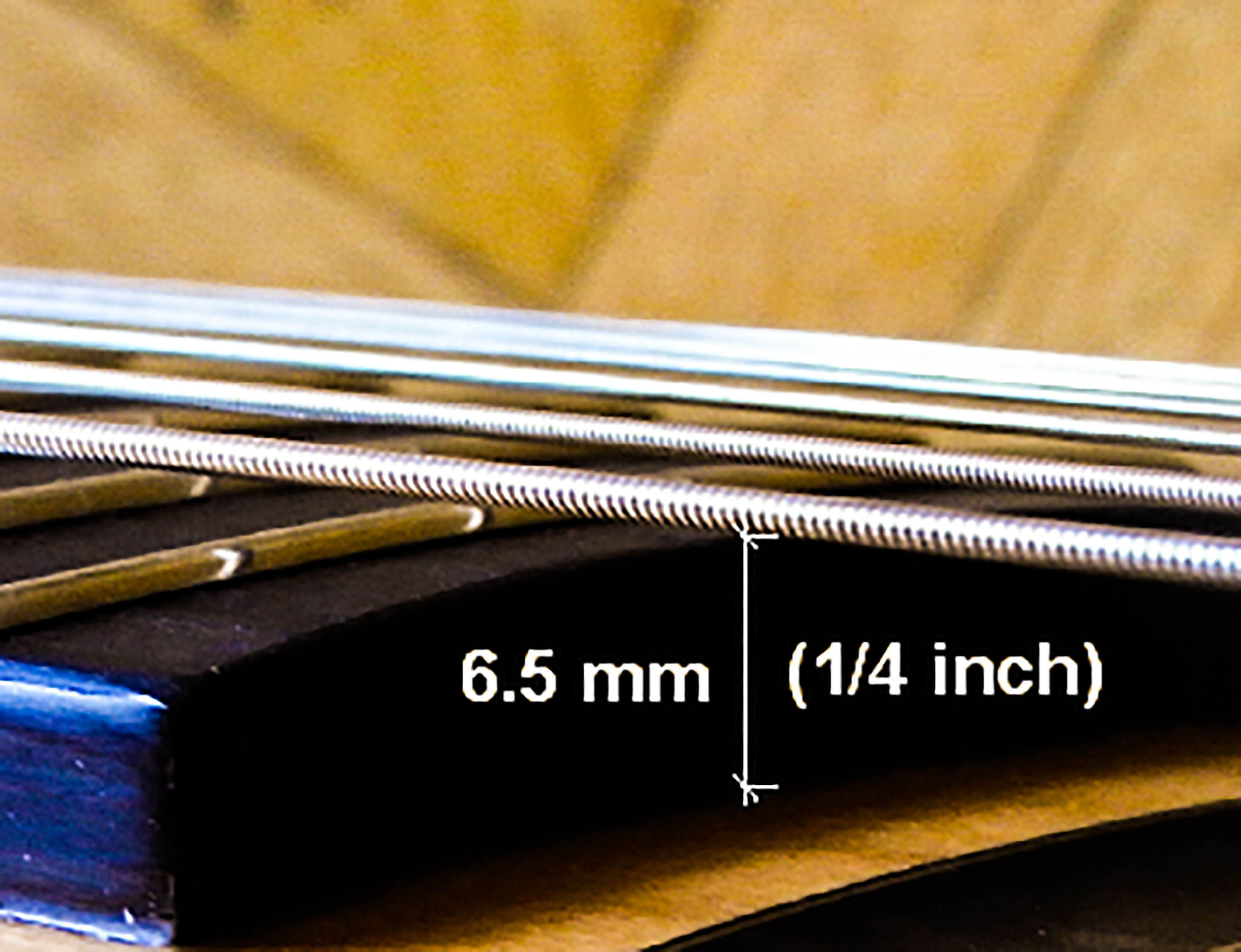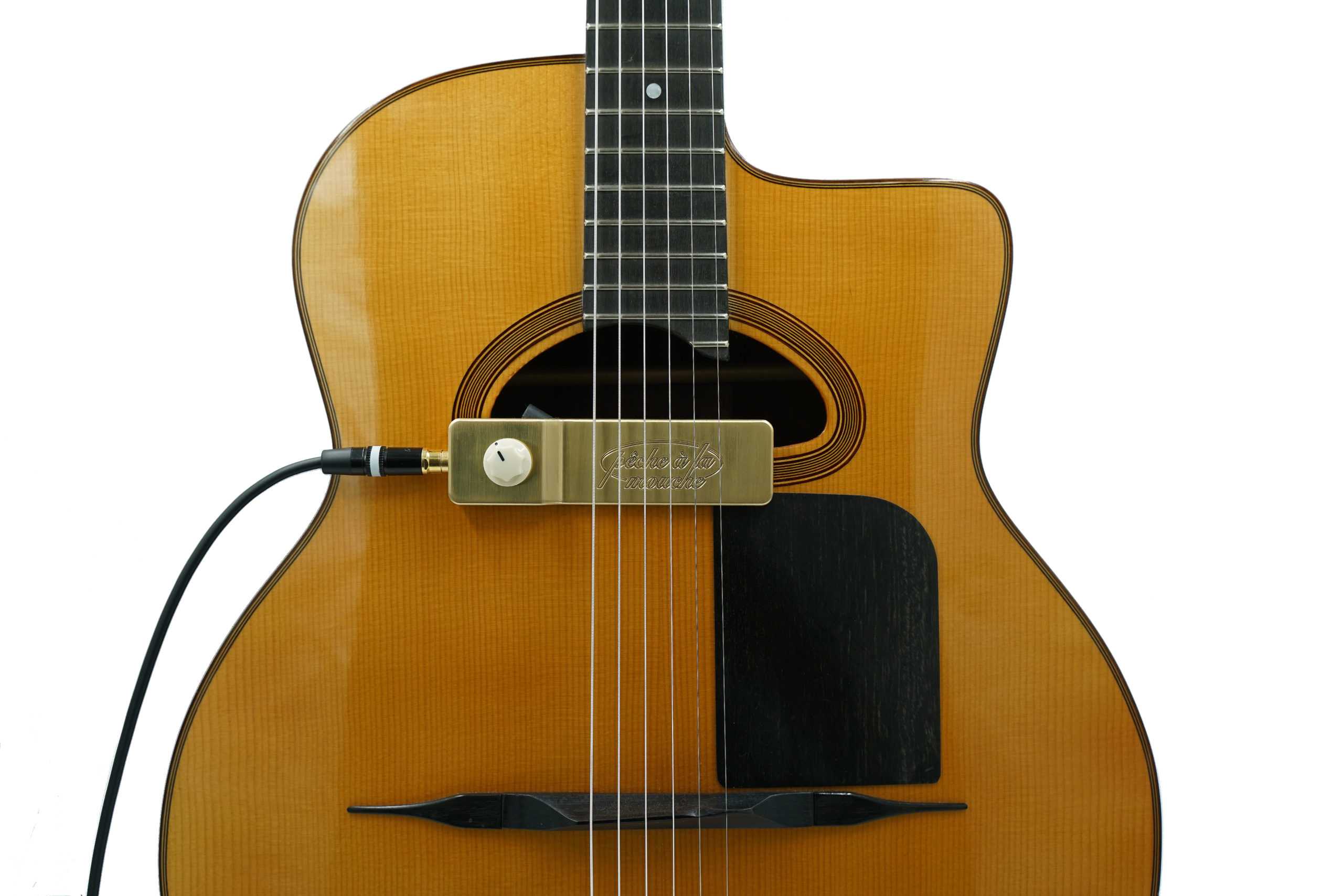 Petite Bouche et grande Bouche
On the picture: « D hole »

Sur l'image: fixation micro sur rocace en « D »