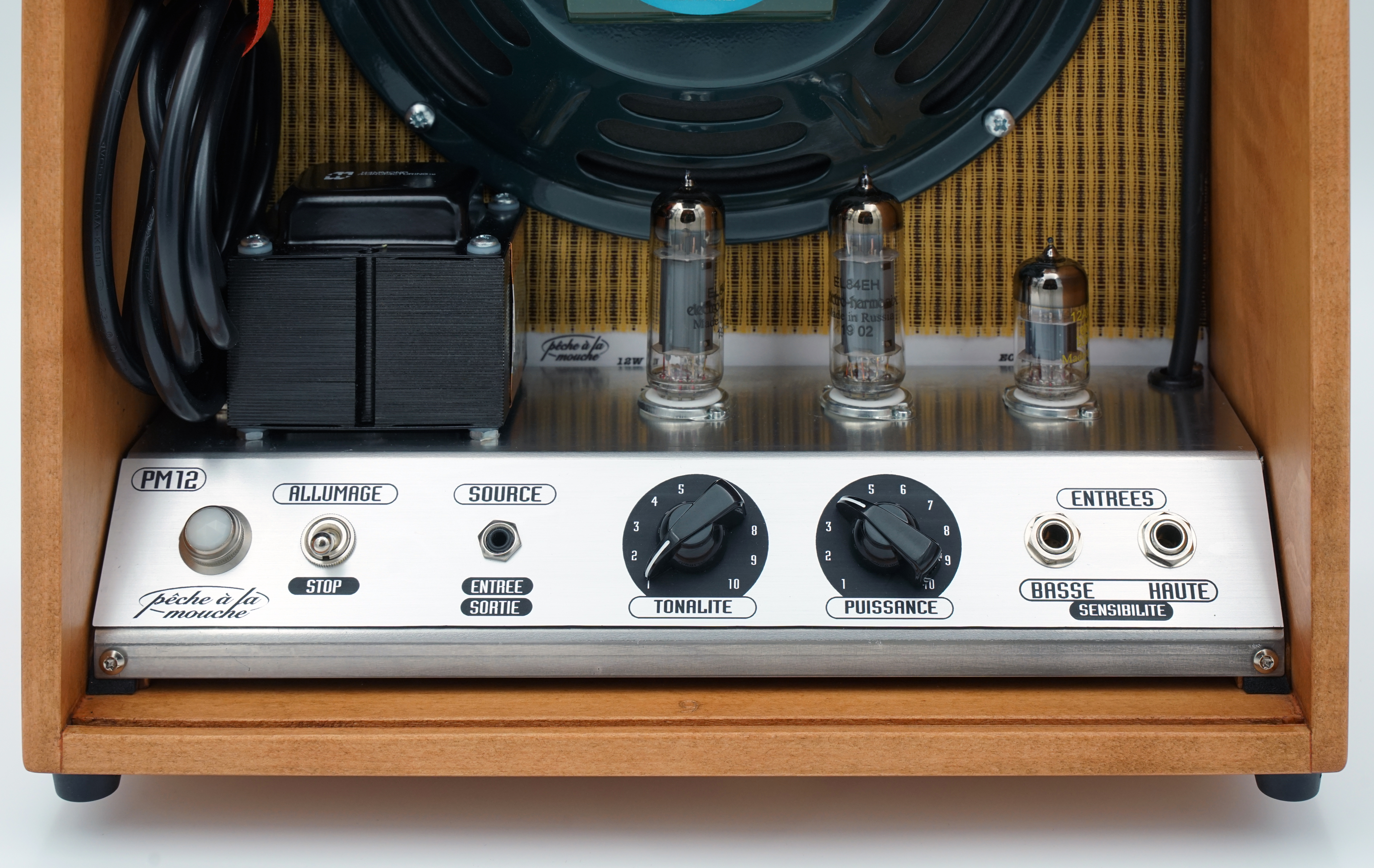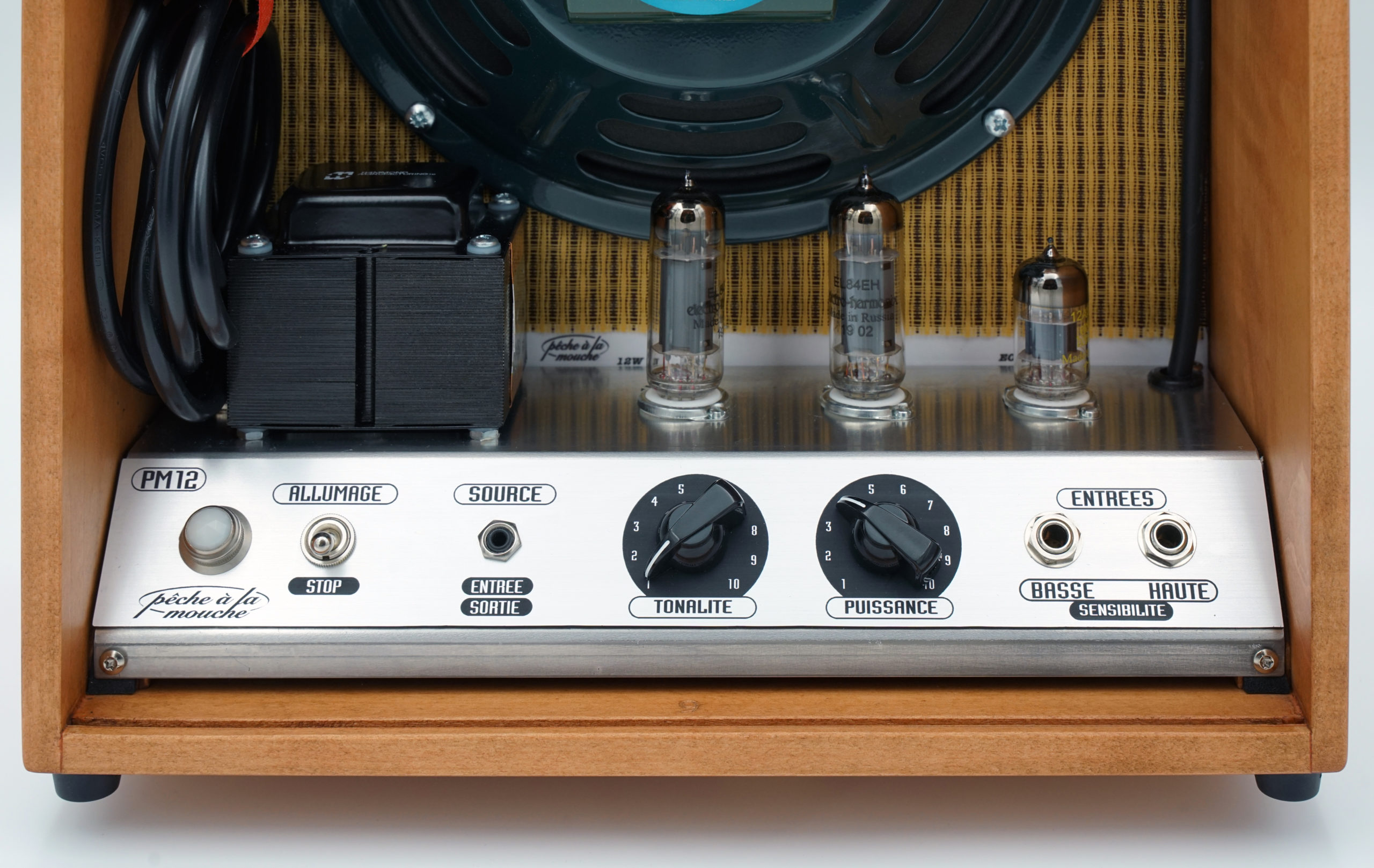 The making of the amplifier goes through several steps
The speakers
The speakers are built according to our own specifications (« Al/Ni/Co ») in the same way as the « Vega » model that equips the Stimer amplifier
Les hauts-parleurs : avec des aimants « Al/Ni/Co » dans l'esprit du modèle Vega équipant l'amplificateur original
The box
The box: built in solid maple wood and black-tainted MDF wood for the « Daphné »
Le caisson : fabriqué en bois massif et en MDF noir pour le modèle « Daphné »
the electronic plate
The heart of the amplifier: the electronic plate, wired point by point, is entirely hand built
Le cœur de l'ampli : la plaquette électronique câblée point par point, entièrement réalisée à la main
the making
The milling, the drilling and the shaping of the brushed aluminium chassis
L'usinage, le perçage et pliage des châssis en aluminium brossé
The front face
The front face of the Deluxe model is made of laminated wood to assure extra strength. It is covered with such precious woods as birdseye maple and rosewood
La face avant du modèle « Deluxe » est réalisée en multiplis, plaquée avec des essences de bois précieux en érable moucheté et palissandre
The handles
First choice leather for the handle
Les poignées : en cuir véritable de premier choix
Spécifications techniques
Specifications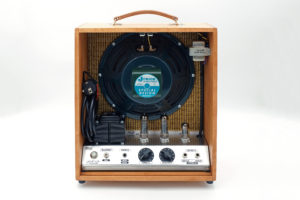 Power 12W RMS (Push-Pull) 10″ speaker for « Deluxe Jazz model »  (app.50 watts) Only 220 volts version
10″ speakers made with Al/Ni/Co magnets
Two inputs high and low impedances (6.35 jacks)
Power and tone adjustements
Input and outupt (jacks 3.5/mono)
Weight 7,8 kg for the « Deluxe » and 8 kg for the « Daphné »
Dimensions : Heigh 38.5cm / Large 33cm / Depth 15cm
Tubes: two EL84 / 12AX7 (ECC83) for 12W « Deluxe Jazz model »
All prices excl. shipping and handling. Subject to price and technical modifications
high and low inputs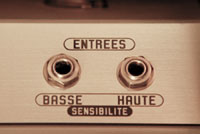 The high and low inputs allow you to have variable sensitivity, depending on the choice of microphone and on the « attack » on the instrument. The « high » level input will overdrive sooner, depending on the pickup output level
The « low » level input will withstand pickup with high level outputs and will allow strong playing on the instrument without overdriving. It is possible to use the two inputs at the same time as long as your instrument is equipped with two different microphones
Les entrées Haute et Basse vous permettent d'obtenir une sensibilité plus ou moins grande en fonction du micro et du choix du type « d'attaque » sur l'instrument, l'entrée « Haute » saturera plus vite selon le niveau de sortie du capteur utilisé
L'entrée « Basse » supportera les micros à fort niveau de sortie ainsi que l'attaque très forte du musicien avec moins de saturation. Il est possible d'utiliser les deux entrées en même temps si votre instrument possède deux capteurs différents
The tubes
The tubes on our amps are chosen and tested for their musical qualities. A tube lasts about 5000 hours ! The three tubes used on our amps are available in many specialised shops. The build quality is excellent for certain makes, although certain others are best avoided. Please feel free to consult us for advice on this choice
Les tubes utilisés dans nos amplificateurs sont testés et choisis pour leurs qualités musicales. La durée de vie d'un tube est d'environ 5000 heures d'utilisation ! Les trois tubes utilisés sont disponibles dans de nombreux magasins spécialisés. La production est de très bonne qualité pour certaines marques. Vous pouvez nous consulter pour de plus amples informations
Speakers and transformers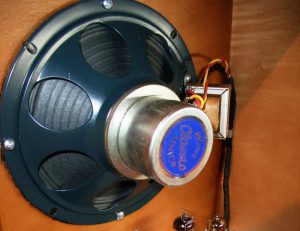 A speaker built according to our specifications, provided with an Al/Ni/CO magnet, ideal for a warm sound.
The output transformer is wound in the way « old fashioned ». The transformers are made in USA
Un haut-parleur construit selon nos spécificités, muni d'un aimant Al/Ni/CO idéal pour obtenir un son chaud.
Le transformateur de sortie est bobiné à « l'ancienne ». Les transformateurs sont « made in USA »
A fuse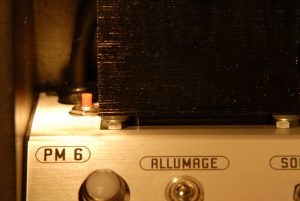 A fuse protects the amplifier against overload and can be restarted without having to look for a spare fuse
Un fusible permet de protéger l'amplificateur contre une surtension et de le réamorcer, sans avoir à trouver le fusible de rechange
Input / Output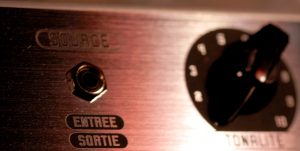 The « input/output » is like the Pick-up connexion to be found on the original Stimer amps (M6). It allows for playing over a play-back from an MP3 or a CD player. It is also possible to connect the amplifier to another amplifier or sound system with the « source » output.This « input/output » requires a 3.5mm mono jack. ATTENTION : You must never connect a « speaker » output from another amplifier to the « entree/sortie » mono jack
L' « entrée/sortie » est comme la connexion Pick-up qu'on retrouve sur les amplis Stimer d'époque (M6). Elle permet de jouer sur un play-back venant d'un mp3 ou d'un lecteur cd. Il est aussi possible de brancher l'amplificateur sur une sonorisation ou un autre amplificateur par « la source ». ATTENTION: cette « entrée/sortie » nécessite un JACK 3.5 MONO. Ne jamais brancher la sortie H-P d'un autre amplificateur à cet endroit